Klamath County ARES®
The Amateur Radio Emergency Service, or ARES®, is an ARRL program designed to provide emergency communications support to local emergency response agencies and organizations when normal communications are limited or not available.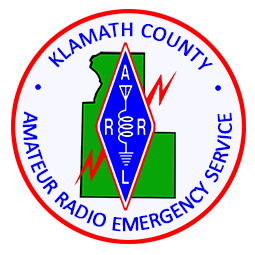 Klamath County ARES serves local emergency response agencies and organizations in Klamath county, and the surrounding area, when communications infrastructure is unable to meet their response needs or when additional communications specialists are needed to meet challenges.
Our partners include Emergency Management, Law Enforcement, Fire & EMS, Hospitals, CERT, Red Cross, and other community service organizations.
Continuing training and exercises are the only way to to build confidence and competence in emergency communications. Our training program is always evolving, incorporating new technologies, agency processes and equipment, and experimenting to find solutions to new and complex challenges we and our agencies face.
We provide data, video, and voice service by whatever means is most appropriate and available using analog and digital communications over radio and IP networks. If you are interested in technology, amateur radio, communications, or upping your game in these areas click HERE for more information and to get started.
Page last updated 3 JAN 2023